Rent-to-Own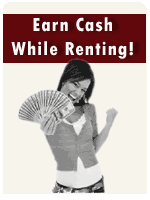 Take advantage of Premier's unique rent-to-own program, and earn cash credit while renting ANY of our homes. You earn cash the same way you would if you owned the home and were paying down a mortgage, but you eliminate the risk of losing your equity if home values fall.

When YOU are ready to convert from renting to owning, one of our experienced real estate brokers will help you apply your earned cash credit towards the purchase of your new home. There is NO obligation to buy the property you're renting. The earned credit can be used towards the purchase of any home. Use the earned credit to help pay for closing costs, interest rate buy-down, or even put towards your down payment.
It really is that easy. Why lose all that money? Save it risk-free. Rent-to-own!
Terms and conditions apply. Call for details.